The Best Pink Cadillac Wedding in Las Vegas
Cruise like a celebrity on the Las Vegas strip! Our pink Caddy tours are a sure way to get noticed. Turn heads and party like a rockstar! Elvis will even drive you!
Our Pink Cadillacs have been cruising down the boulevard with happy couples since we opened. There is no better way to arrive at your Vegas wedding than in our Pink Cadillac. Our Pink Cadillacs are well maintained and serviced for each of our guests to ensure the best ride down the Strip.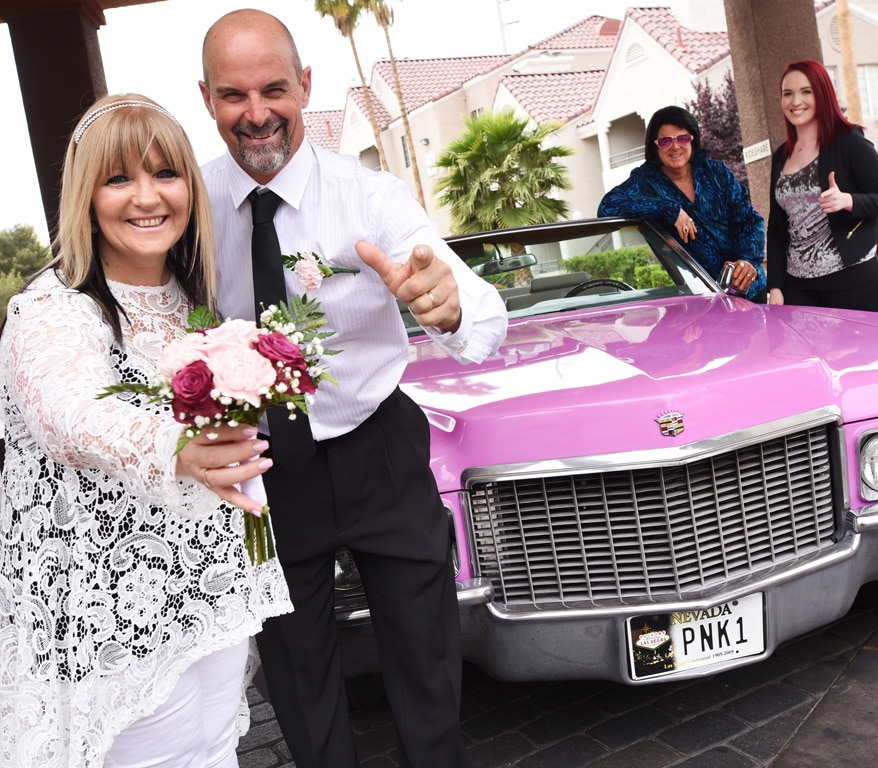 Las Vegas Pink Cadillacs
The idea of a Pink Cadillac wedding first came from none other than the King of Rock n Roll! Elvis weddings in Las Vegas has become an iconic symbol of Las Vegas. After all, if you are getting married by an Elvis impersonator, you should definitely arrive in his car!
Throughout Elvis Presley's lifetime, he has owned countless Pink Cadillacs for his personal enjoyment. Before his passing, he gifted his mother a Cadillac Fleetwood 60 that he had custom painted to a unique shade of pink. The special pink he create is now named "Elvis Rose".
You are sure to turn heads on the Las Vegas Strip while cruising in our iconic Pink Cadillac. There is no better way to experience the Las Vegas Boulevard than with the top down, enjoying the sun and the Pink Cadillac.
The Little Vegas Chapel Pink Cadillac Transportation
The Little Vegas Chapel proudly owns two Pink Cadillacs! Each of our Pink Cadillacs are cleaned and prepped daily, and are always ready to arrive at your hotel for you to hop in for the ride!
Our 1970 Pink Cadillac joined The Little Vegas Chapel family in 2014 and the first transportation run happened that September! Shortly after, we acquired the 1968 Pink Cadillac to cater to our guests as well. Both of our iconic Pink Cadillacs are convertible Coup de Villes which allows you to soak up the Vegas sun during your ride.
Our Pink Cadillacs were featured in many articles and videos. Just recently, our 1968 Cadillac Coupe de Ville was featured in a Buzzfeed video!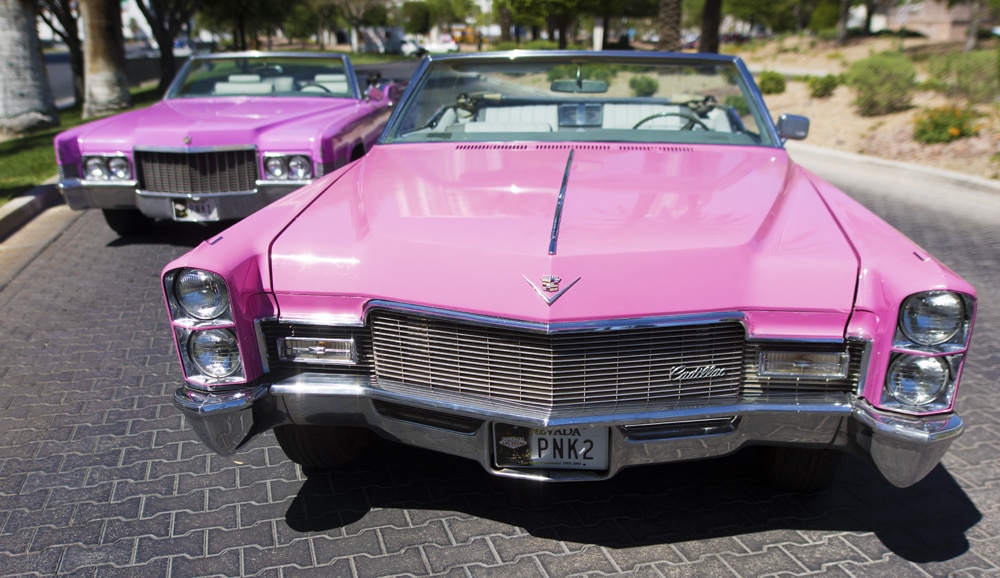 (Be careful of the heat! Vegas Summers are tough on our cars. We recommend Pink Cadillac weddings during the early morning, or late evening for months June – September! The hottest time of day in Las Vegas summers is from 2 pm to 7 pm.)
Why You Should Hire a Pink Cadillac for Your Vegas Weddings
1. Creates unique and fun memories
You will always remember arriving to your Las Vegas wedding in the iconic Pink Cadillac! All of our packages include professional photographers who are taught and trained to capture the two of you enjoying the ride.
2. Convenient booking makes planning stress free
You will not need to worry about booking with a separate company for your Pink Cadillac transportation! The Little Vegas Chapel handles it all. Trust our staff with planning the pickup and return service for your special day
3. Intimate riding
Our Pink Cadillacs comfortable seats our lucky couple. Enjoy Las Vegas with just you and your partner. Ask your driver about facts in Las Vegas, our experienced drivers know everything there is to know about our fabulous city.
You should definitely consider hiring our Pink Cadillac transportation for your big day! Let the team at The Little Vegas Chapel make your special day even more memorable with our classic and vintage Pink Cadillac transportation!
The Little Vegas Chapel offers traditional and Elvis ceremonies! For more information regarding our packages and additional services, please give us a call at (702) 385-5683 or send us an email at info@thelittlevegaschapel.com!