The Little Vegas Chapel is OPEN!
Tie the Knot in Las Vegas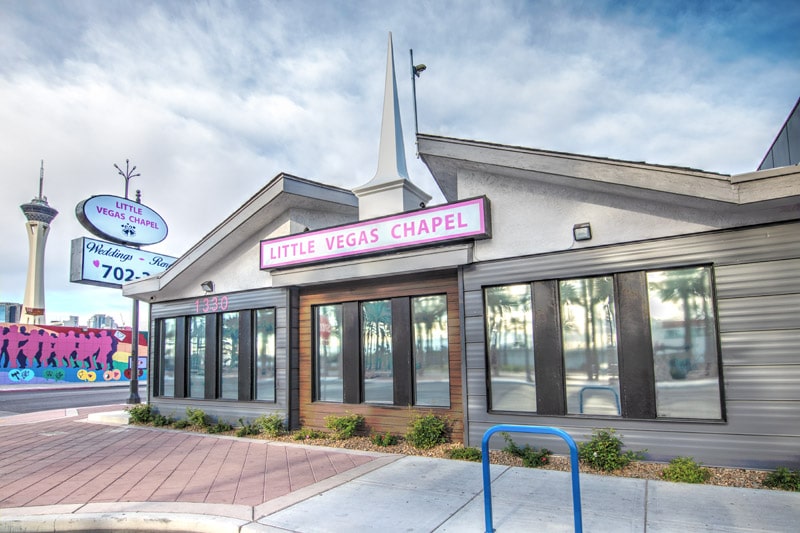 Get Married in the Best Wedding Chapel in Las Vegas
Romantic and elegant, traditional ceremonies are sure to give you an unforgettable experience! Each affordable package includes an experienced wedding coordinator to help you with your big day, elegant floral arrangements, professional photography, and much more! Your wedding is a special day, and the entire team would be honored to be a part of it!
Get Married By 'The King' With Elvis Weddings
There's no better way to celebrate your burning love than with the King of Rock 'n Roll! The chapel's world-famous Elvis ceremonies are the perfect mixture of fun and sweet. You are guaranteed to have a complete "Viva Las Vegas" experience with any Elvis package!
Vow Renewals to Remind Them They Are Loved!
Express your love and commitment to each other, again! The chapel offers vow renewal packages that are guaranteed to give you memories to last a lifetime! Bring the family to witness, or intimately say your vows to one another. You can even have Elvis there to shake things up! Elvis would love to celebrate with you!
Planning a Wedding in Vegas
There are so many details that go into wedding planning, and creating one on a budget is not easy. Let our friendly staff help ease this burden for you! A wedding coordinator can assist in wedding planning and help couples that are feeling overwhelmed. The Little Vegas Chapel will simplify the wedding planning and reception planning process. The chapel offers several wedding and reception packages from which to choose.
SUMMER BOUQUET SPECIAL!
$30 Off Any Floral Upgrade!
Booking must be made on or before August 15th, 2020. Valid for any ceremony in 2020.
Just type in SUMMER30 in the floral package Add Promo Code section when booking!
No substitutions.
Additional Wedding Services
What more can I say than THANK YOU!!! My husband and I were married here and everything went perfectly. From the moment we walked it, the front staff was so nice. Our photographer was the sweetest and our officiant was amazing! It was a day that we will always remember and we want to thank you for everything. If anyone is thinking about getting married here do not hesitate to look further. They will take care of you hands down!
After over 10 years together, my now husband and I decided to run to Vegas to get married. We wanted something fun, stress-free and special...and the Little Vegas Chapel delivered just that! Staff was professional and helpful. Elmer took our photos and did a wonderful job. We ended up purchasing a few more than included in the package because we liked them so much. Thanks for such a memorable experience!
Great place! I am super happy with our ceremony. We got married there in the end of January. Stuff is super helpful. They made it super easy for us to schedule the date for the next day. Elvis did a great performance. And the photos we got after were good.
We married on the 6th March 2020. We can't praise enough. The staff were great - even before the day. They were professional and friendly throughout the process. Our actual ceremony was just perfect. It was just what we asked for - lighthearted and fun with a great atmosphere. We were very happy with our photos too. Overall excellent service. Elvis was just amazing. Would thoroughly recommend if you want the Elvis experience.
We got married the day right after Valentines day. The Chapel was great, very well organized helpful and romantic at the same time. They have a pink car outside that is great for picture and Elvis married us!! So much fun, would def recommend!
The Little Vegas Chapel was an amazing place for my husband and I to renew our vows for our 10th wedding anniversary. Everyone was so friendly and accommodating, and genuinely excited for us. We did the Elvis ceremony and it was a truly funny and sweet and sentimental experience all in one. Also, the photographs were top notch - what wonderful memories we will have! Would definitely recommend!
One of the best ways to share and cherish your love with your partner is with a vow renewal. No matter how long you've been married, there is nothing that can compare to standing next to your partner and confessing your love for one another. The chapel provides unique candle ceremonies for vow renewals, or we can do something fun like having an Elvis themed vow renewal wedding ceremony.
Beauty, elegance, joy and happiness, if these are the words that come to mind when planning a dream wedding in Nevada, look no further. The Little Vegas Chapel specializes in creating dream weddings. Providing traditional wedding ceremonies designed to enhance the love you already share. From beautiful floral arrangements to candlelight wedding ceremonies, there is a little bit of everything you need for a perfect traditional wedding in Las Vegas. Offering package plans with photography services and limousine services too! Give the chapel a call, or browse through the traditional wedding pictures to learn more.
Are you enjoying a trip to Las Vegas and decided today is a great day to get married? A wedding coordinator is here to help with easy Las Vegas wedding planning options. You can easily book a Vegas wedding package online, or call to schedule a reservation. 
All you need to do is pay for your wedding license and you are ready to get married. Give the team a call to find out how to obtain your marriage license and what else you'll need to get ready for your dream wedding. The chapel has taken care of the hard part of wedding planning, and guarantees you won't be disappointed with the wedding packages and services provided. 
Getting married is one of the most important milestones you will ever experience and the team here makes sure everything goes off perfectly and you remember this day forever. If you are in Las Vegas to elope, the chapel is here to help!
Book now to schedule an elaborate, or even a fun and cheap Vegas wedding. Accommodating all types at our Vegas wedding venue on the strip!
Elvis and Las Vegas go hand in hand and the chapel offers the best Las Vegas Elvis wedding packages designed! Providing everything you need from professional photography, video services, floral arrangements, and more! What makes The Little Vegas Chapel's Elvis weddings the best Having wonderful Elvis Tribute Artists to perform the ceremonies and always bringing out the joy in each ceremony they perform. If you have a special request, let a wedding coordinator know and our Elvis' will do their best to incorporate your requests into the ceremony.
What makes our themed weddings truly unique? Not only does the chapel provide some of the best Elvis wedding ceremonies in Vegas, the chapel is also one of the only wedding venues in Vegas that provides courtesy limousine travel. Let our limo chaueffer pick you up and drop you off to make your Las Vegas wedding truly unique and a dream wedding!
The intimate wedding venue allows seating for 24 guests and up to 35 guests with standing room. If you would like an indoor wedding in Nevada, The Little Vegas Chapel is the perfect location. Traditional weddings match perfectly with the intimate décor of a Las Vegas wedding venue. The chapel also has some fun décor styles for people that love the idea of an Elvis themed wedding. Top off the evening with a photos by one of the pink Cadillacs, the only convertible Cadillacs you will see cruising the Las Vegas Strip!
Romance, elegance, beauty, fun, and Elvis excitement, come on over to the chapel's Las Vegas wedding venue and see for yourself why it's the featured chapel in the 18b Arts District in Downtown! Don't just take our word for it, take a look at some of the celebrities and television networks that have visited the Las Vegas wedding chapel:
CNN, Ed Sheeran, Ronny Craig, Lidia Nikonova, Kylar Loussikian, Michael Burton, Featured on The Australian, Featured on Neon Magazine, Eugenie Baccot, John Huck, Andrea Jaramillo, Aaron Chervenak, Niels (Gierige Gasten), Claire (Trendgloss), Joshua & Michael Greenfield (MTV's Brothers Green), Isabella Pennefather, Scott Perry, Best of Las Vegas, Las Vegas Review Journal, Liam Hemsworth, Jared Leto's A Day In The Life of America, Joe Smith, David Niviere