Elvis & Marilyn Costume Rentals in Las Vegas
Things aren't always what they seem. But, if it seems like fun, do it! The Little Vegas Chapel offers Elvis and Marilyn Monroe costume rentals that are available for hire for your ceremony!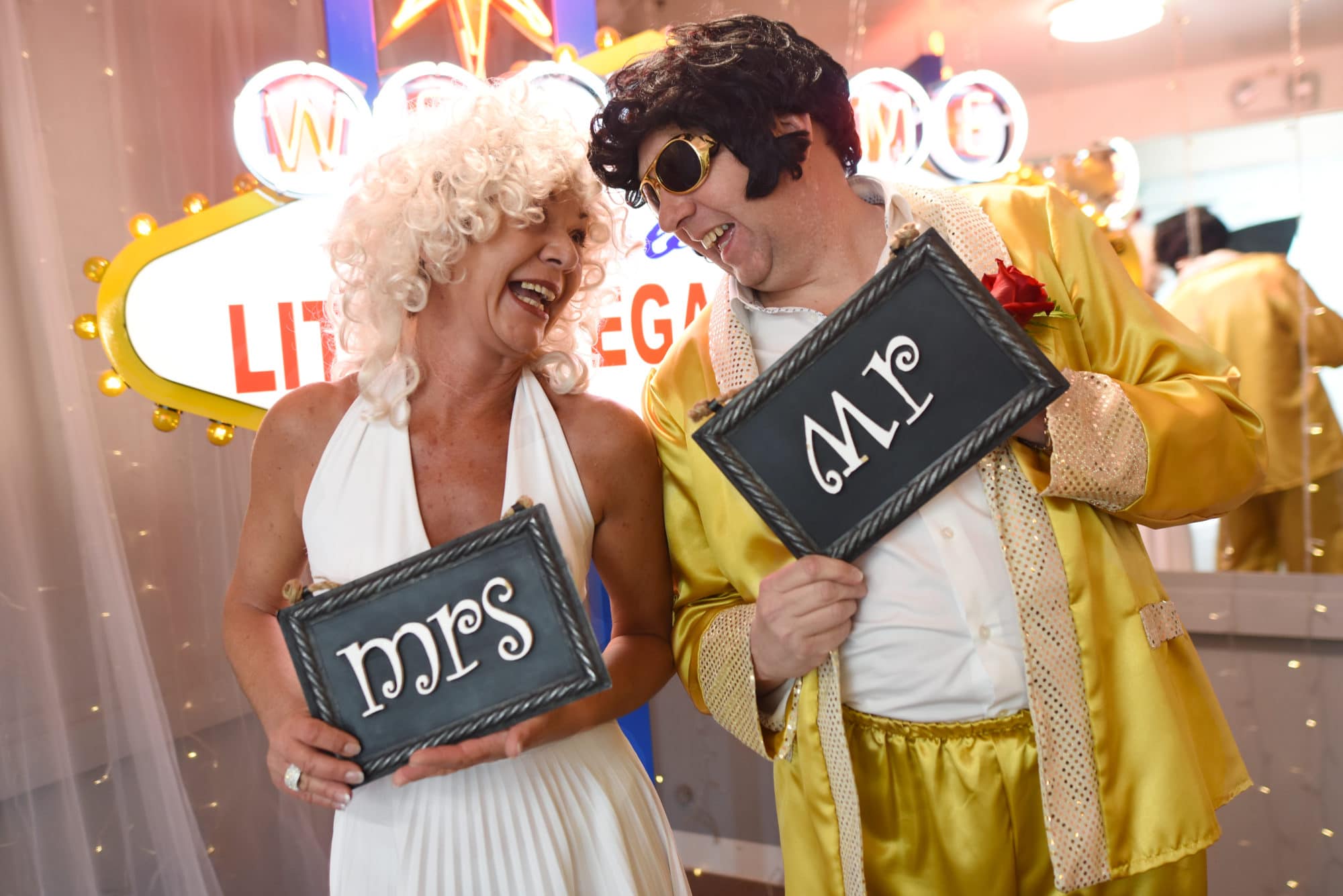 Why Elvis and Marilyn?
These classic superstars are everywhere in Las Vegas, so why not have them at your wedding too!
Elvis Presley rose to fame in the early 1950s. He became known for his fun, rockabilly songs that became quick hits around the world. Throughout his career, Elvis held many shows in Las Vegas which rapidly started selling out. He performed in many big hotels such as the New Frontier and the now Westgate Las Vegas. Since then, Elvis has grown in popularity around the city of Las Vegas. Elvis inspired shows, wedding chapels, and impersonators can be found around the city to pay tribute to the King. Popular cable and news network, CNN, even featured a couple who got married by Elvis in Las Vegas on their recent New Year's Eve special!
Marilyn Monroe, an actress, and singer who is known for her beauty and acting are also one of the top impersonated stars in Las Vegas. Her iconic white flowy dress became famous in the movie, "The Seventh Year Itch" by Billy Wilder.
These two icons symbolize success and rock and roll! Dressing up like them for your wedding day is unique and will bring even more excitement to your big day!
Elvis and Marilyn Wedding Las Vegas
Elvis and Marilyn costumes make a great alternative if you are looking for something amusing and different than a wedding gown and tuxedo. Our Elvis and Marilyn costumes come in every size to ensure you find the perfect fit.
Our Elvis costume is inspired by Elvis' Aloha jumpsuit. The white fabric is sure to give off an awesome vintage rock feel for your big day. We even provide Elvis wigs and sunglasses to complete the look and feel of the King of Rock n Roll! We also have a special Gold Lame Elvis Comeback suit jacket available for hire in select sizing. The Gold Lame Elvis comeback suit jacket will sure to make you feel like a rockstar!
You cannot go wrong with the classic and timeless Marilyn Monroe white flowy dress to complete your memorable and fun wedding. Inspired by her iconic pose and outfit in the movie, "The Seventh Year Itch" you are definitely going to feel like a bombshell in our costume. To complete the ensemble, The Little Vegas Chapel has a blonde Marilyn wig for you to use to top off the look. We highly suggest bringing in some ruby red lipstick to perfect Marilyn's iconic rockabilly look.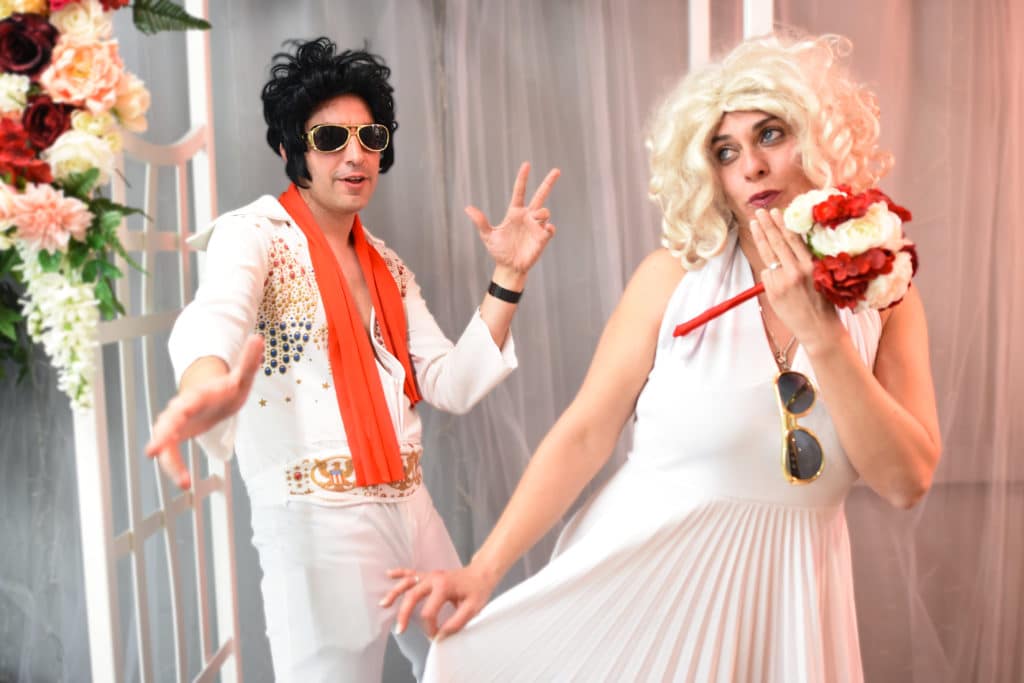 Fun Vegas Weddings at The Little Vegas Chapel
Renting the fun Elvis and Marilyn costumes for your Vegas wedding is made easy and stress-free by The Little Vegas Chapel. Our set pricing is friendly for every budget and can be added to any of our wedding packages! It is just $125 to rent out the Elvis and Marilyn ensemble together. This price includes the outfit, wigs, and accessories to complete your extraordinary look!
For more questions, or to add the Elvis and Marilyn costume rental to your big day, please give us a call at 702-385-5683 or reach us via email at info@thelittlevegaschapel.com! The Little Vegas Chapel offers affordable traditional wedding packages and fun exciting Elvis ceremonies. For more information on our services, please visit our additional services page found on our website.