It's been over 35 years since Elvis Presley died, yet his popularity has never faded. Rumors have always persisted that Elvis is still alive, and through the years, his career never died. His music continues to sell, thousands of people visit Graceland each year, and you can find an Elvis impersonator on every corner in Vegas. Not only did Elvis significantly change the world when he was alive, but his legacy lives on today and his music continues to influence our world.
Turning the Music World Upside Down
The 50s were an incredible time for music, specifically rock 'n' roll. Although Elvis wasn't the first person to record and perform rock 'n' roll, he was undoubtedly the most prolific artist of that time. Rock 'n' roll was already rising in popularity, and when Elvis came on the scene, he brought success to the genre. Fans flooded to his concerts, rock 'n' roll radio stations were formed across the country to play Presley's music. As Elvis rose to fame, he elevated rock as well, effectively opening the door for other rock artists.
Elvis never invented rock 'n' roll, yet he's known as the "King of Rock 'n' Roll" for a reason. He helped mix together the music sounds that characterized rock. He brought in a bit of blues, some of country music's yowling, a bit of Dean Martin's crooning, and the emotional feel of Johnny Ray's ballads. There's little doubt that Elvis was largely responsible for shaping the sound of rock, and his sex appeal and high energy only added to his success.
Presley's Influences on Other Musicians
Not only did Elvis completely turn the music world upside down with his unique sound and high-energy performances, his music had a huge influence on other musicians, who would go on to further shape the sound of rock and roll. As he helped rock surge to the forefront of American culture, he influenced and helped to open the door for other rock artists, such as Eddie Cochran, Buddy Holly, Gene Vincent, and Little Richard.
Elvis had a big influence on the Beatles, and he's known as the artist who made the Beatles rock 'n' roll fans. Many other artists have acknowledge that Elvis had a big influence on their music, such as Bono, Boby Dylan, Bruce Springsteen, Bob Seger, and even Led Zeppelin's Robert Plant.
Elvis Continues to Influence Music and Pop Culture
Through the years, Elvis Presley's legacy has continued to live on, and he continues to influence music and pop culture today.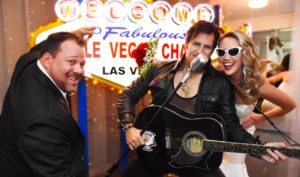 For example, in 2002, a remix of the song "A Little Less Conversation" was released by JXL, a Dutch musician. The song was featured in the Nike World Cup ad in 2002 and became a posthumous #1 hit for Elvis. Compilations and albums of Presley's music continue to be released. His songs continue to appear on television and movie soundtracks. Each year he continues to finish at or near the top of the list of biggest dead celebrity earners compiled by Forbes magazine.
While Elvis had a short life and music career, his legacy has continued to live on. We hear Elvis in our music. We see Elvis in today's pop icons. He's the King, and his legacy will be eternal.