The Little Vegas Chapel is one of the premier wedding chapels in Las Vegas! It is located in the historic 18b Arts District in Downtown. It is an incredible venue to hold both weddings and vow renewals. Our iconic wedding chapel here at The Little Vegas Chapel is the perfect place to start your happily ever after. We were the first stand-alone Las Vegas wedding chapel in the Arts District in Las Vegas.
How Many People Get Married in Vegas?
Las Vegas is often considered the marriage capital of the world!
Around 120,000 weddings are performed in Las Vegas every year.
Las Vegas sees about 10,000 weddings every month, which is over 300 weddings each and every day. In the United States, approximately 2.3 million couples wed over the duration of a year. This averages to about 6,200 weddings each day. 300 of these weddings are held in Vegas. Roughly 5% of weddings performed every day are held in Las Vegas. 
Las Vegas is the second most popular city in the world in which to get married. The only city that sees more weddings every year than Las Vegas is Istanbul in Turkey with 166,000 weddings annually.
Las Vegas Wedding Chapels
It's no secret that Vegas has seemingly endless wedding venue options. After all, it is the marriage capital of the world. Wedding venues in Las Vegas range from a drive-through on the Las Vegas Strip to upscale affairs.
There are approximately 50 Las Vegas wedding chapels, which can make it incredibly difficult to find the perfect one for you!
Why The Little Vegas Chapel is the Wedding Chapel for You
In operation since 2013, The Little Vegas Chapel specializes in weddings, and  vow renewals,  Our location is conveniently close to Downtown Las Vegas. In fact, the chapel is mere minutes away from all of the major hotels located on The Boulevard!
Our incredible team at The Little Vegas Chapel is made up of experienced wedding coordinators, skilled photographers, and caring officiants. Every member of the staff strives to make your day as special as possible. We offer a broad range of services, such as limousine service, wedding gown & tuxedo rentals, and much more!
The Little Vegas Chapel is committed to making your special day memorable. We care about your wedding and taking away all the stress that comes with planning and executing a wedding. We ensure your wishes are met and that your dream wedding goes off without a hitch! Take a moment to browse through customer testimonials and you will see that each and every person who walks through the doors is treated like family. The team loves celebrating with couples and creating life-long memories with friends, family, and loved ones.
Our convenient location is nearby many restaurants and fun activities, which allows you to enjoy an incredible day with your loved ones. 
If you're looking for romance, elegance, beauty, fun, and Las Vegas excitement, visit our Las Vegas wedding venue and see for yourself why we are one of the featured chapels in town. The Little Vegas Chapel has been highlighted on countless news broadcasts and television shows, as well as various magazines and articles. Guests from all around the world have celebrated with us, including numerous celebrities and TV personalities.
What to Expect from Vegas Weddings
Our facility is designed to seamlessly guide couples and their guests through the lobby and the chapel. It focuses on remaining intimate enough to allow you to enjoy your special day with your significant other. Couples will be able to work alongside our award-winning customer service team. This team consists of experienced wedding coordinators, caring officiants, and professional photographers. We offer on-site clothing rentals, as well as provide couples with the opportunity to view their photos privately in the photo viewing room.
The Little Vegas Chapel is one of the most beautiful and unique wedding chapels on the strip. The gorgeous venue not only brings to life everything you've dreamed about, we top it off with exclusive offerings. The chapel's wedding venue was designed with your special day in mind. We create perfect wedding memories thanks to the best in-house professional photographers, florists, and ministers. You make the memories here. Let The Little Vegas Chapel go above and beyond to make this day special! Here are just a few famous friends that have visited our chapel. 
Ed Sheeran
Ronny Craig
Lidia Nikonova
Kylar Loussikian
Michael Burton
Featured on the Australian
Featured on Neon Magazine
Eugenie Baccot
John Huck
Andrea Jaramillo
Aaron Chervenak
Niels (Gierige Gasten)
Claire (Trendgloss)
Joshua & Michael Greenfield (MTV's Brothers Green)
Isabella Pennefather
Scott Perry
Best of Las Vegas
Las Vegas Review Journal
Liam Hemsworth
Jared Leto's A Day in the Life of America
Joe Smith
David Niviere
Here at The Little Vegas Chapel, we offer excellent wedding chapels to enhance your experience. The Archway Wedding Chapel is our most well-known chapel. The Imperial Wedding Chapel is currently being implemented and is coming soon!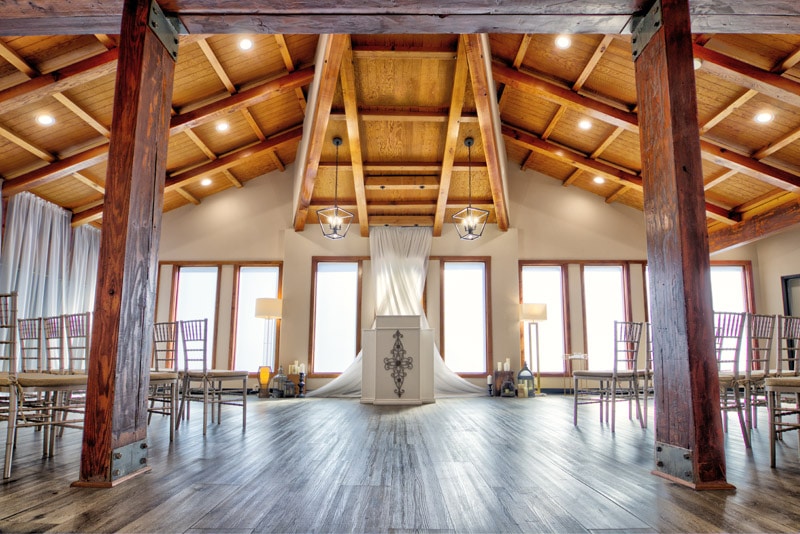 Check out our flagship chapel, called the Archway Chapel. This chapel takes its name from the tall arched ceiling that provides a stunning view. The chapel is inlaid with original wooden framing from 1950 that provides a particularly rusty, yet elegant, atmosphere. This chapel features modern lighting dispersed throughout in order to provide proper viewing and photograph in the Archway Wedding Chapel. The beautiful windows face the Las Vegas Strip. They are frosted for your privacy, whether your wedding is in the day or night. Get married in classy style in our Archway Wedding Chapel!
Here at the Little Vegas Chapel, we are dedicated to providing you with the wedding of your dreams! We are excited to introduce our new chapel – The Imperial Chapel. Designed with the modern couple in mind, the chapel offers minimalist designs throughout. Call for more information regarding this chapel. 
Our chapel is located near Main Street, overlooking the Las Vegas Strip. It is easy to access through major streets and freeways. Ample parking is located around the chapel to accommodate couples and their guests. The Arts District is conveniently situated between the popular locations of Fremont Street and the Las Vegas Strip. Our location offers both new and updated photo opportunities, with fixtures such as a floral wedding arch, urban alleyway, street locations, and romantic lit gardens. 
We are located on 1330 S 3rd St in Las Vegas, NV 89104. This is on the corner of 3rd Street and Imperial Avenue. If you have any questions, feel free to reach out to our team at 702-385-5683 or via email at info@thelittlevegaschapel.com.
Some Important Considerations Before You Get Married In Vegas
Where Do I Obtain a Marriage License in Las Vegas?
If you are planning a Las Vegas wedding, you will need to obtain a marriage license. You can apply for a Clark County Marriage License 60 days prior to your wedding date. The online form helps to reduce the amount of time it will take for you to obtain your marriage license from the Clark County License Bureau.
Do I Need to Register for My Wedding Date?
While we accept walk-ins, making reservations online or via phone to secure your date and time are recommended. A minimum deposit is required to hold your wedding package and date.
For additional information about commonly asked questions, please visit our FAQ Page or contact us local (702)-385-5683 or toll-free (844)-879-6927.
Our traditional weddings match perfectly with the intimate décor of our Las Vegas wedding chapel. We provide traditional wedding ceremonies designed to enhance the love you already share. From beautiful floral arrangements to candlelight wedding ceremonies, we have a little bit of everything you need for a perfect traditional wedding in Las Vegas.
One of the best ways to share and cherish your love with your partner is with a vow renewal. No matter how long you've been married, there is nothing that can compare to standing next to your partner and confessing your love for one another. We provide unique candle ceremonies for vow renewals, or we can do something fun like having a themed vow renewal wedding ceremony.
International couples looking for an apostille can find one here at The Little Vegas Chapel. Through our Apostille services, you will have all the necessary documents for the proof and authentication of your marriage certificate within three business days after your ceremony.
Everyone wants their wedding day to be one to remember. Why not consider a limousine ride? Enjoy limousine transportation from your hotel to the chapel on your big day.
If your friends or family aren't able to make it to Las Vegas for your special day, they can watch your wedding from home with the help of our live streaming services.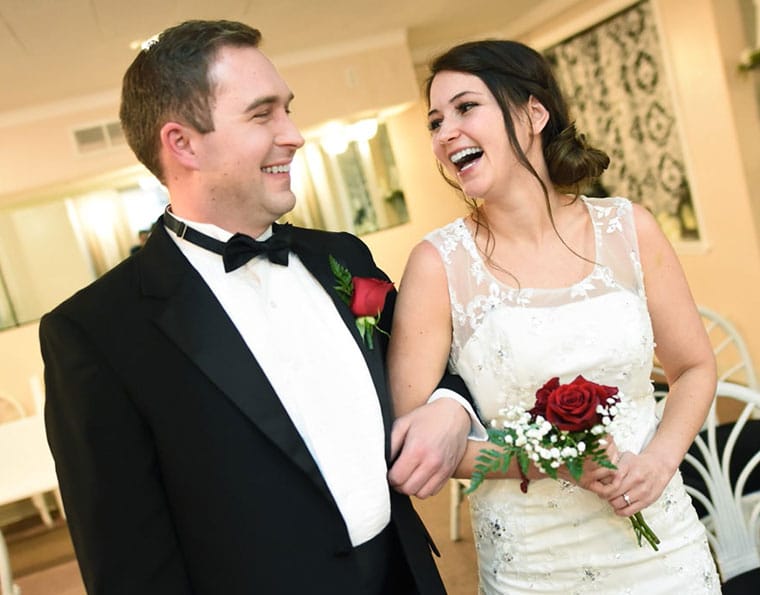 No wedding is complete without professional photographs. Our photographers will capture each special moment of your big day.
Our chapel is adorned with flowers. They add a unique beauty to your already beautiful wedding day. We offer an array of floral services to meet all of your requirements and provide pristine décor. 
You don't have to rush to look around town to find a nice tux and gown. Look sharp for your big day by renting from our tuxedo & gown selection.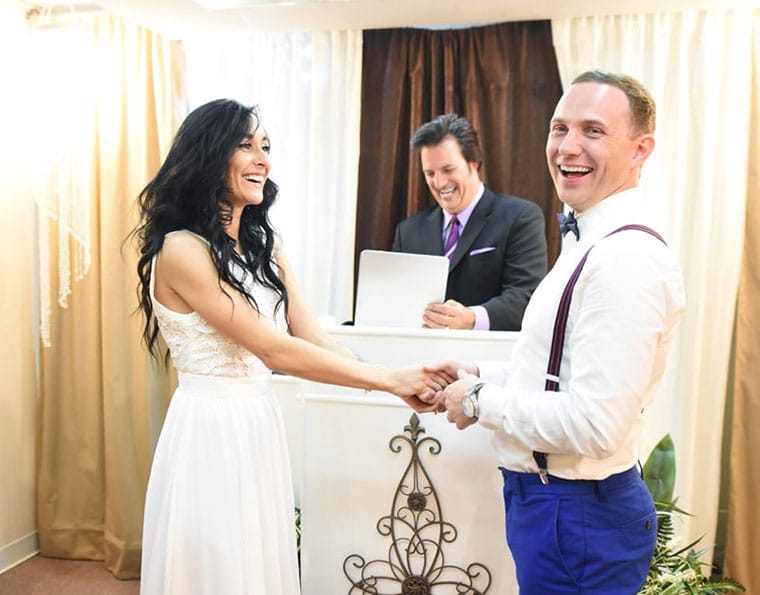 The minister is a central part of your ceremony! Choosing the right minister is critical in ensuring the wedding of your dreams. Appoint a minister to oversee your wedding and vows.
Thanks to all of our amazing couples and guests, The Little Vegas Chapel has won Review Journal's Best of Las Vegas 2018 Award for the second year in a row! We could not have won this impressive award without all of you! Thank you for voting our chapel the Best in Las Vegas!
The Las Vegas Review Journal's Best of Las Vegas highlights the finest businesses and places that make Las Vegas one of the greatest cities in the world. Categories available to vote in include:  best places to go, things to see, where to eat/drink, best places to shop, best casinos and hotels, and even where to get married!
Check out some of the phenomenal reviews we have gotten from our couples!
We are always looking to improve our Little Vegas Chapel! Did you have a ceremony with us? We would love to hear your feedback! Please leave us a review on Yelp, Google, TripAdvisor, and Facebook!