Our Famous Friendship Ceremonies
Not ready to tie the knot, but want to do something special and exciting while in Las Vegas? At The Little Vegas Chapel, we are happy to perform commitment ceremonies for you and your partner! We say it's good practice for next time!
Commitment ceremonies are often referred to as fake weddings, promise ceremonies, and friendship ceremonies! Our Commitment ceremonies are meant to be symbolic and are used for those who want to commit their promise to one another without the legal paperwork. The Commitment ceremonies at The Little Vegas Chapel performs the perfect ceremonies that will make you feel as if you got married, without any of the legalities!
For a legal marriage, you and your partner must appear in person at the Clark County Marriage License Bureau with a form of valid photo identification to obtain a marriage license. If you do not want to have a legally binding ceremony and are looking to do a celebration just for fun, contact The Little Vegas Chapel! All you will need is just a reservation and yourselves! We will take care of all the rest for you.
The Little Vegas Chapel Fake Weddings
Our commitment ceremonies are very similar to our actual weddings! With our Pretend Wedding packages, bouquets and/or boutonnieres will be ready for you when you arrive for your special day. Just because the ceremony is pretend does not mean you will be alone in the planning process! Our friendly and experience ceremony coordinator will guide you from when you first walk through the doors to when you leave to go celebrate! Our professional photographer will be there to see and catch the best parts of your ceremony. The caring officiants at The Little Vegas Chapel will make your celebration one to remember! You will even receive a commemorative commitment certificate which you can sign and take home with you. You'll have the experience of getting married, without actually getting married!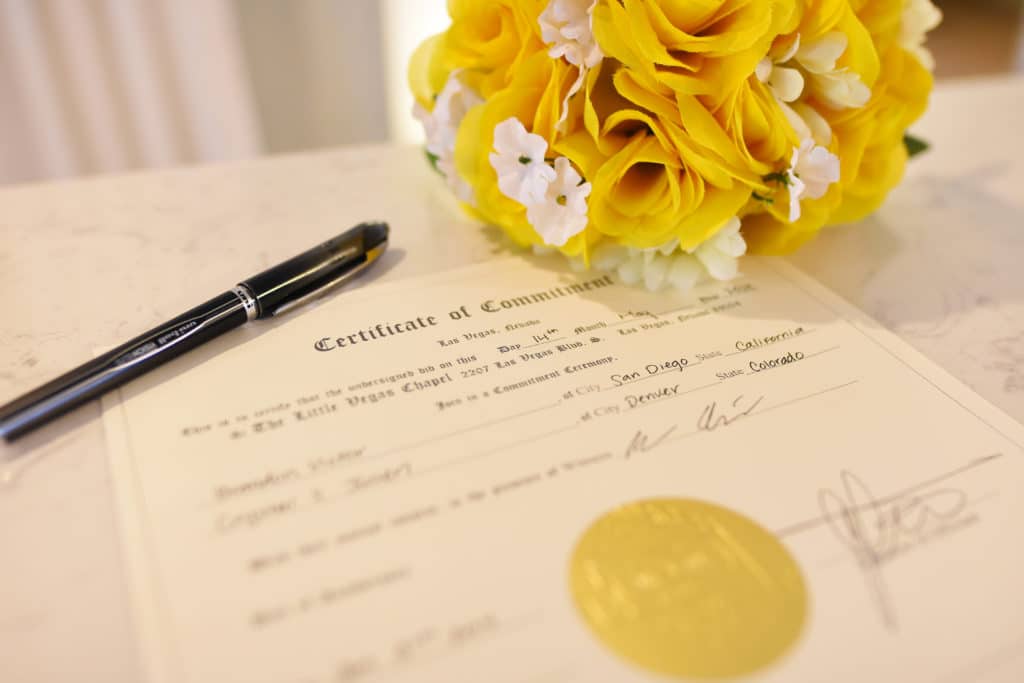 Pretend Vegas Weddings
Our pretend weddings at The Little Vegas Chapel are the best ways to show your love and commitment to your partner without getting a marriage license! These ceremonies make the perfect surprise to your partner while in Las Vegas. The celebrations are quick, fun, and easy to set up! We even offer wedding gown and tuxedo rentals to complete the look for your ceremony!
The Little Vegas Chapel offers traditional and Elvis pretend ceremonies! For more information on our fake weddings, please give us a call at 702-385-5683 or via email at
info@thelittlevegaschapel.com