Are you touring from out of town and considering an Elvis, Las Vegas wedding? Elvis weddings provide you with some of the best entertainment around. The Little Vegas Chapel offers Elvis themed weddings designed to make your wedding day or vow renewal memorable. Our Elvis wedding packages offer an excellent value for the large amount of unique services that will aid in giving your wedding day that special touch it needs.
Recently we had a wonderful couple from Italy come and enjoy our Las Vegas Chapel. They were so much fun alongside Elvis! We offer our congratulations to this fun couple that traveled to Las Vegas from Italy for their vow renewal ceremony.
Getting Married by Elvis
What makes Las Vegas so iconic for weddings? The bright lights can provide an amazing atmosphere for anyone. We love the bustling city as it truly does offer enjoyable activities for everyone. Do you love some of Elvis' classic songs including "Can't Help Falling in Love"? Why not let our amazing Elvis impersonator serenade you and your spouse on your wedding day? Not only do we take the time to make the wedding special and romantic, we can create a fun and lively atmosphere!
So what can you do now that you've made the choice to get married? The next step is to obtain your wedding license from the Clark County License Bureau and pay the fee for the license. Once you have it in your hands, head to The Little Vegas Chapel where we will be able to legally perform your wedding ceremony.
Elvis Wedding Packages Las Vegas, NV
We bring together some of the most exciting aspects that make Elvis a legend in the city that never sleeps. We have created Elvis wedding packages in Las Vegas, NV, designed to give the couple a variety that includes both of their ideas. If you do have special requests, we ask that you contact us directly. We will work with the couple to ensure you have a special day that exceeds your expectations.
Not only can you get married with Elvis presiding over the ceremony, you can add in another fun element, having Elvis be a part of the processional march! We have other wedding guests have Elvis walk them down the aisle. No matter what your idea is, you can count on The Little Vegas Chapel to make it come true! Our amazing packages also include add-on's like cruising the Las Vegas strip in a classic Pink Cadillac. The entire wedding has created an ambiance that makes your wedding day special.
Renewing Wedding Vows in Las Vegas
No matter where you are from, we can help. The Little Vegas Chapel not only offers wedding planning services, we work with couples coming to Las Vegas to share in their love in a vow renewal ceremony. One of the best parts about a vow renewal ceremony is that it doesn't need a special wedding license like a traditional wedding does. Vow renewals are fun way to re-declare your love and commitment to your life long partner. Many couples even do Las Vegas wedding vow renewal ceremonies on their honeymoon!
Do you have a question about our Elvis Las Vegas wedding packages? Give The Little Vegas Chapel a call today and book your wedding package or vow renewal online!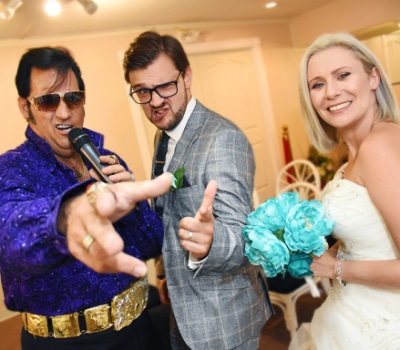 BURNING LOVE
Celebrate with the King with our affordable Elvis packages
Elvis performs chapel ceremony

Elvis sings 2 of his greatest hits of your choice

Elvis can walk you down the aisle

Officiated Marriage License

Copy of Elvis and Priscilla's Marriage Certificate

Free shopping passport to luxury boutiques on the Vegas Strip ($100's in value!)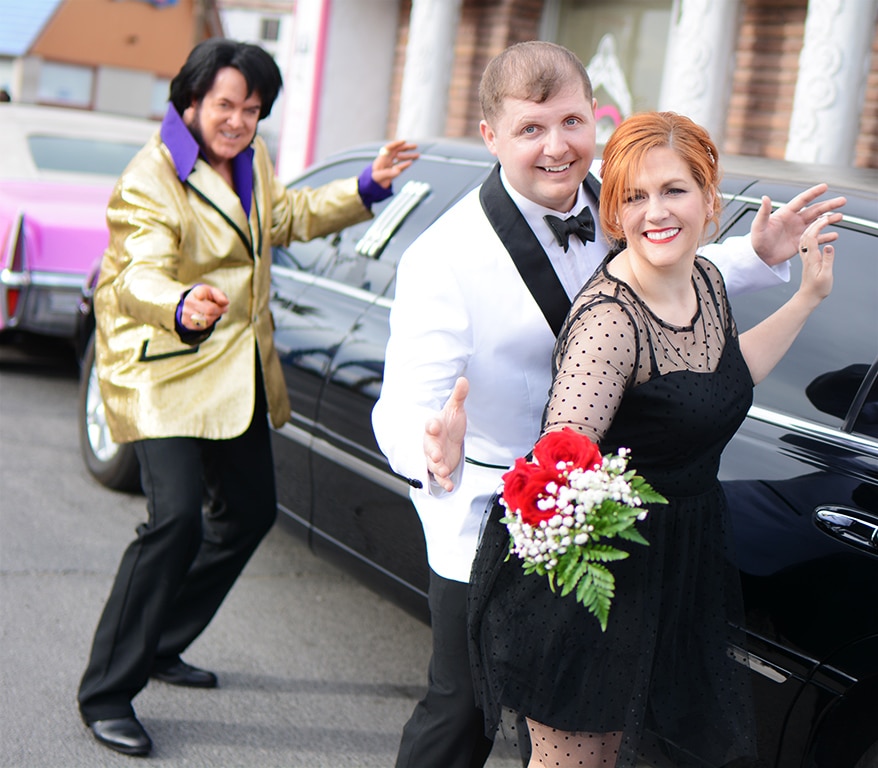 VIVA LAS VEGAS
Get All Shook Up With This Elvis Ceremony
Limousine transportation to and from the Chapel

Elvis performs chapel ceremony

Elvis sings 3 of his greatest hits of your choice

Elvis can walk you down the aisle

Officiated Marriage License

Copy of Elvis and Priscilla's Marriage Certificate

Video recording of ceremony

Free shopping passport to luxury boutiques on the Vegas Strip ($100's in value!)
ULTIMATE ELVIS EXPERIENCE
Ride in style with our iconic convertible Pink Cadillac
$979
$
777
SPECIAL
Pink Cadillac transportation to and from the Chapel

Elvis performs chapel ceremony

Elvis sings 3 of his greatest hits of your choice

Elvis can walk you down the aisle

Elvis Glasses for the Couple

Keepsake Certificate Holder

Autographed Photo of Elvis

Witness Provided If Needed

Officiated Marriage License

Copy of Elvis and Priscilla's Marriage Certificate

Video Recording of Ceremony

Free shopping passport to luxury boutiques on the Vegas Strip ($100's in value!)