With its world-class hotels, premier dining options, captivating live performances, and romantic venues, Las Vegas is an all-encompassing destination for couples looking to get married. And the choices of where to hold a Las Vegas destination wedding are as plentiful as sage brush in the desert. In fact, wedding venues in Las Vegas range from drive-throughs on the Strip to elegant, upscale affairs. To help you find the best wedding chapel in Las Vegas, here's your guide to tying the know in the city of glitz and glam.
How to Choose the Best Wedding Chapel in Las Vegas
Browse Online Reviews and Book a Venue Tour
Before booking your wedding venue, read online reviews (here is ours) and select a few to tour in person. When you tour a wedding venue, always look for the little details you know will make your special day perfect.
Choose a Wedding Package
Are you looking to have a traditional, classy wedding ceremony without spending thousands of dollars?
Although Las Vegas may be known for its midnight marriages that rarely last, it's also a romantic location for a traditional wedding ceremony. Traditional weddings are often performed inside charming chapels with classic wedding music played as you say your "I do's." Your venue should have on-site ministers to help you exchange your vows and make your marriage legal.
If the classic or traditional Las Vegas wedding isn't for you, consider a wildly fun and imaginative themed ceremony, such as an Elvis wedding. As one of the most sought-after wedding packages, Elvis weddings are designed to combine classic wedding components along with an entertaining and upbeat Elvis Tribute Artist's performance.
Add the Finishing Touches
No wedding is complete without extra finishing touches. Make sure your Las Vegas wedding venue offers professional wedding photography, hair and make-up, limousine transportation, catering, and floral arrangements. Plus, most wedding chapel's offer wedding dress and tuxedo rentals at flat-rate pricing. Since you and your partner want to look your best on your big day, browse the venue's wedding gowns and tuxedos to make sure they have exactly what you're looking for.
If your loved ones can't make it to the ceremony, ask your wedding chapel if they offer stream services. Don't forget to request a link so you can forward it to your friends and family who did not get the opportunity to celebrate with you during the ceremony.
Visit Our Breathtaking Downtown Vegas Strip Location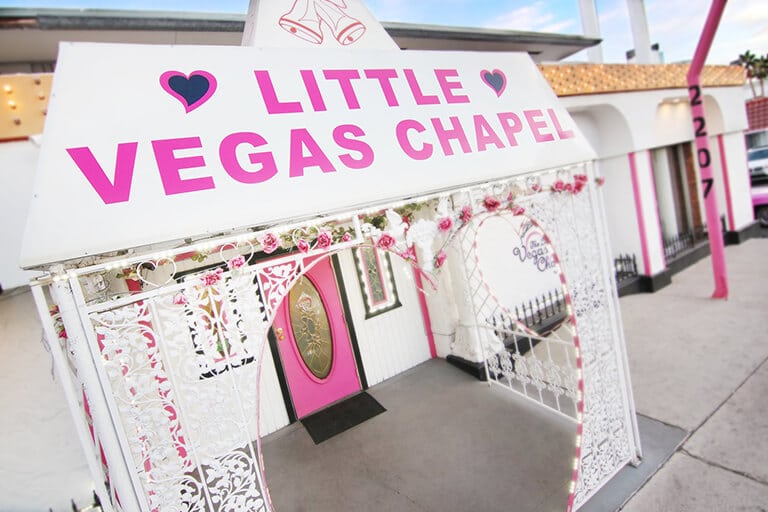 It's no secret that Vegas has a lot of options when it comes to choosing a wedding venue. When it comes to the best place to get hitched, The Little Vegas Chapel is the hottest spot for couples planning to tie the knot in Vegas. After booking your wedding venue, top it off with a luxurious limo ride, a tux and gown, and freshly picked flowers. Our friendly staff can assist in wedding planning and help you experience the wedding of your dreams. Prepare to be swept off your feet by a romantic Las Vegas wedding ceremony.