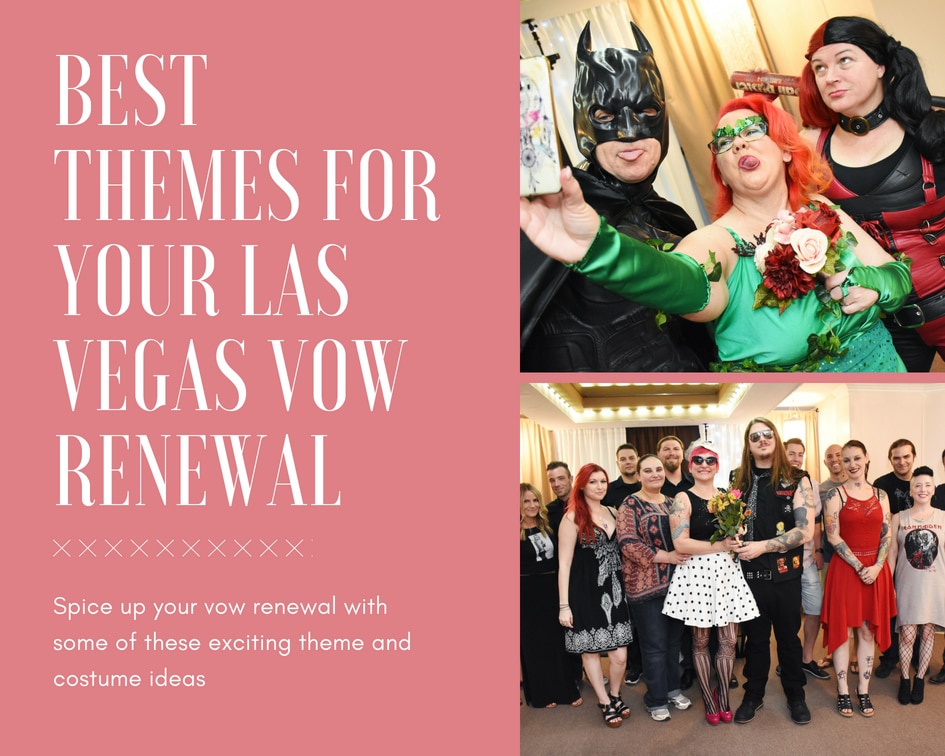 Thinking about renewing your wedding vows in Vegas? Congratulations! Vow renewals are a fun and perfect way to reaffirm your love and commitment for one another while visiting the fabulous city of Las Vegas. Couples from all across the world visit The Little Vegas Chapel with the idea of renewing their vows for fun. Couples visit by themselves or bring along the entire family.
Unlike your first wedding, which in most cases are very sentimental and serious, Las Vegas vow renewals can be a lot of fun and very silly, while still having that perfect romantic touch to remind you of the love you have for one another. A perfect way to have a lot of fun and excitement for your vow renewal is by dressing up in amusing costumes and having your guests do the same!
Check out some of the best costume ideas and themes for your Las Vegas vow renewal below!
Travel back in Time – Decade Theme
Are you a fan of the roaring 20's? What about the 1950's and their classic steampunk Rockabilly style? Do you have disco fever and want to dress up like a bunch of dancing kings and queens like the 70's? A decade theme will be the perfect match for your vow renewal!
The glitz and glamour that is the 1920's is a great theme to have fun with during your ceremony. Dress up like flappers and their gorgeous dresses and headpieces, or show up in your best mob boss suit and hat. A 20's style look is perfect for those who still want to look elegant for their fun vow renewal in Las Vegas!
Being an Elvis chapel, you can not go wrong with an exciting Rockabilly theme! The Rockabilly era from the 1950's is the best theme to have if you want to channel your inner punk style! The fun and eccentric style of clothing and unique hairstyles match perfectly with an amusing Elvis renewal of vows. The Little Vegas Chapel offers Elvis & Marilyn Monroe costume rentals for your convenience as well!
The 1970's is the best for those looking to get down and boogie! There are hundreds of costumes out there to select from in a variety of fun colors and styles to select for your vow renewal. There are foxy lady costumes, disco dazzlers, and groovy psychedelic costumes. Have fun experimenting with the types of accessories to add as well!
Fandom Fun
Are you a huge fan of comic books, and want to have a super wedding? Or do you wish your acceptance letter to Hogwarts came in when you were younger and want to finally experience the magic? A fandom packed renewal of vows would be the best option for you to have a unique Las Vegas vow renewal you always dreamed of having! There are countless fandoms for everyone to gain inspiration from for your vow renewal. Dress up like Cinderella and Prince Charming and have your guests join you as their favorite Disney character. Have an anime-themed renewal and ask your dress up to arrive in their best cosplay outfit. Be inspired by your favorite movies like Star Wars, and have the best vow renewal in the whole galaxy.
Fandom themed weddings really combine everything you love for a romantic day you will remember forever. Consider dressing up as your favorite character for your Las Vegas vow renewal!
No matter what theme you choose, your Las Vegas vow renewal will be an event to remember! The Little Vegas Chapel is here to make your dreams come true. We have renewal of vows packages that start at $199 and Elvis ceremonies that start at $299. If you have any questions, feel free to give us a call at 702-385-5683 or via email at info@thelittlevegaschapel.com.