Star Wars Wedding
Have you ever dreamed of walking down your wedding aisle to the Imperial March? You're not alone! Our team at The Little Vegas Chapel offered a Star Wars wedding to couples that wanted to get married on the proclaimed "Star Wars Day." We are passionate about providing superior wedding services to ensure that your wedding can be just as special as you are. Make your wedding memorable by hosting it with our team at The Little Vegas Chapel. The Star Wars wedding package that we offered just highlights the creative wedding solutions we can offer at our chapel.
May the 4th Be With You!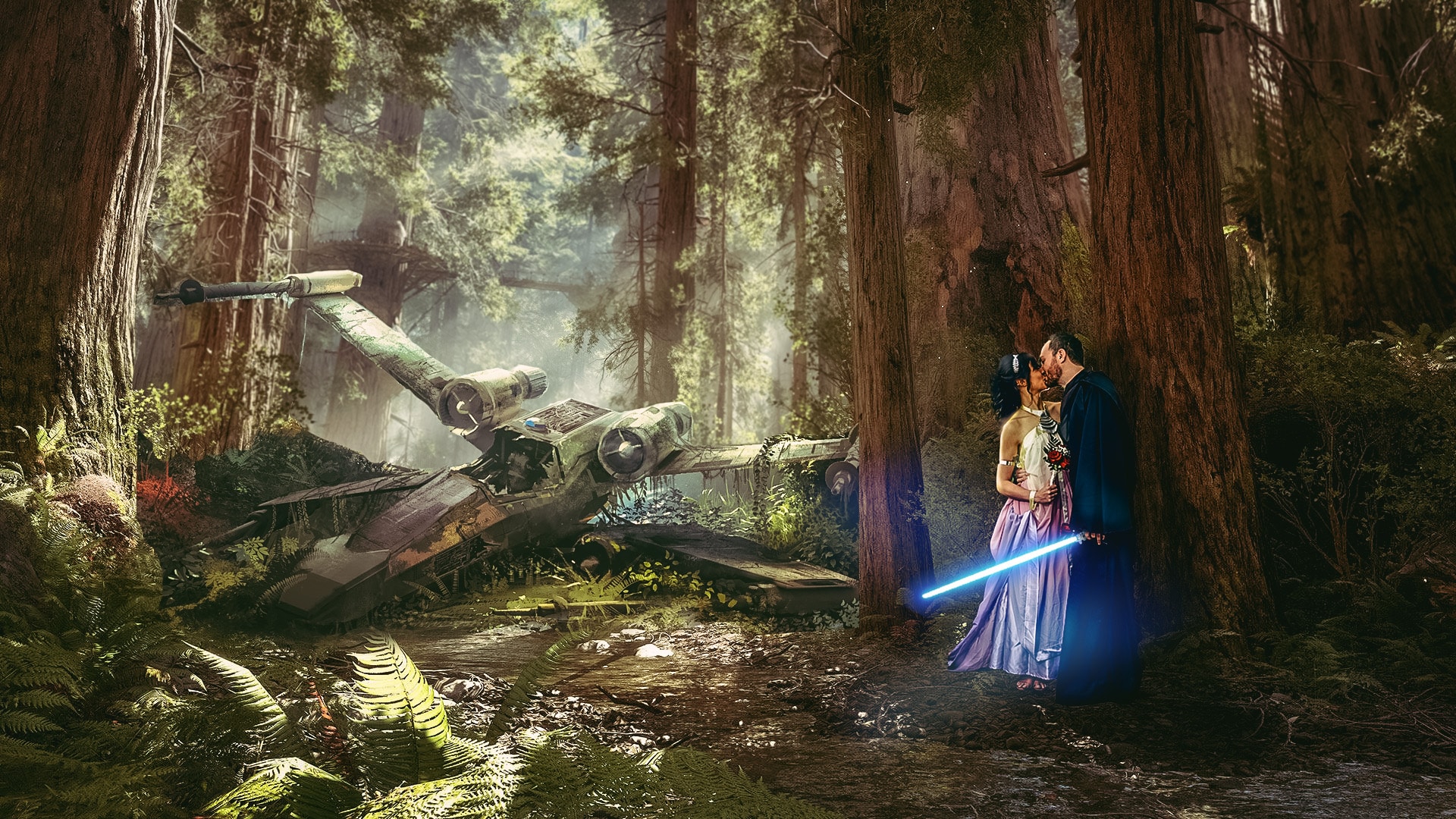 How did you celebrate Star Wars Day this year? At The Little Vegas Chapel, we celebrated by offering a special "Yoda One For Me" package on May 4th. We strived to celebrate this special day in our own unique way by honoring all of the couples that were no longer flying Solo and wanted to get married on May 4th. There were several things that were included in this unique package. Couples had the choice of Star Wars themed music for both their entrance and the recessional. The officiant performed the ceremony while incorporating popular Star Wars lines to enhance the experience. This included phrases such as "This relationship began a long time ago in a galaxy far, far away," "the force proved strong in this relationship," "Till Death Star do us part," and many more famous phrases.
We offered a unity sand ceremony as part of this package. These ceremonies were available in either Dark Saber Black and Jedi Knight Yellow or Sith Red and Skywalker Blue sand. These ceremonies included Star Wars-themed bouquets, as well as Storm Trooper boutonnieres. The newlyweds that had their Star Wars wedding with us each received a complimentary photo of themselves that was edited onto a Star Wars backdrop. There were additional services included in the package as well! We offered professional photography with 15 digital images, round trip courtesy limousine service, and an officiated marriage license.
A Stress-Free Wedding
At the Little Vegas Chapel, we are well-known for providing stress-free weddings. Wedding planning can feel incredibly stressful, and we are passionate about mitigating your stress. Having a stress-free wedding doesn't mean that you can't have a fun wedding that conveys your own personality. When you work with our team, you will be able to mitigate the stress of wedding planning and start your marriage off on the right foot. By working with our experts, you can have a fun, incredible experience without all of the related stress that comes along with traditional wedding planning.
Have the Wedding of your Dreams
At The Little Vegas Chapel, we offer a broad range of services that are designed to help you have the wedding of your dreams. We can help you to host the ideal wedding that will emphasize your personality and provide a memorable experience. When you work with us, you can be married by Elvis, host a vow renewal ceremony, or have another array of experiences. We are passionate about ensuring that your specific needs can be met.
Customize your Wedding
On Star Wars day, we wanted to show you that having a Vegas wedding with us doesn't mean you have to settle for a traditional approach. We are able to offer an array of wedding services to help you customize your wedding to match your needs. From LGBTQ weddings to traditional varieties, we offer the right services to provide you with a memorable experience to cherish for a lifetime.
Your wedding can and should be customized to meet your own specific preferences. Whether you want an Elvis wedding or a traditional wedding, we can offer the solution to meet your wedding-related needs. We can help you to take your wedding out of the box and customize it to meet your needs. For example, we've recently partnered with Taste Buzz Food Tours to offer a package including both a wedding ceremony with us and a food tour reception! For more information about the wedding packages that we are currently offering or how to plan your perfect wedding, contact us at The Little Vegas Chapel today!