Gifting your guests wedding favors after your ceremony are a thoughtful way to thank your guests for joining you on your special day. These souvenirs do not need to cost an arm & a leg, especially since you are already spending a lot as it is! Take a look at some of these sweet treats your guests are sure to love!
Popped The Question – Custom Popcorn Boxes
Your wedding will be poppin' with these adorable little popcorn boxes! These customized popcorn boxes make the best little memento from your special day! Fill them with classic butter, or mix with up with caramel corn! Your guests will love a little snack to enjoy after.
Custom Popcorn Boxes $25 for 12 boxes
A Sweet Ending to New Beginning – Donut Wedding Bags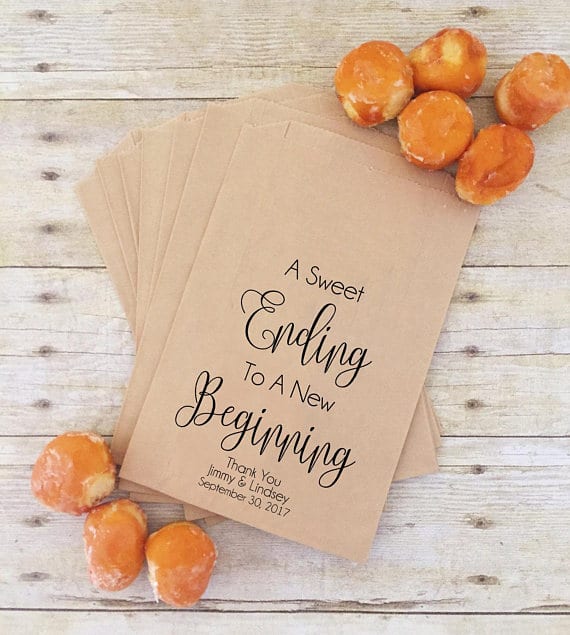 Donut worry about spending too much on these goodie bags! These mini treat bags can hold any of your beloved snacks, from tiny donut holes, cookies, macarons, and even coffee beans! The best part: these bags are grease resistant, so you won't need to worry about those grease marks ruining the text on the front!
Donut Wedding Bags $11 for 20 bags
For Richer For Poorer – Coin Wedding Favors
You won't break the bank with these chocolate coin wedding favors! These little mementos will be a hit with all your guests!
For Richer For Poorer $2.29 ea
His/Hers Wedding Favor Stickers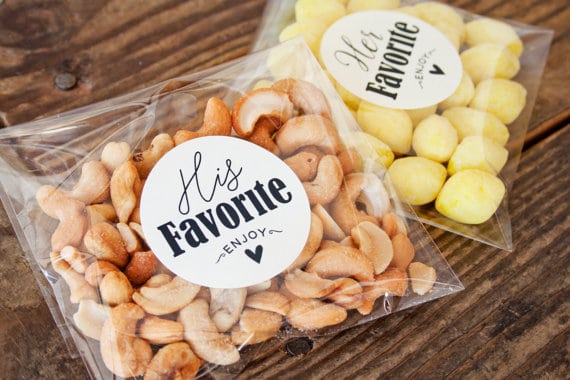 Another great way to get personal with these gifts to your guests! His/Hers favorite stickers can be placed on goodie bags or lids! Fill it with your favorite snacks like almonds or chocolate covered pretzels, or even your favorite jams or spreads!
His/Hers Favorite $6.50 for 20 Stickers  
Mint to Be – Wedding Favors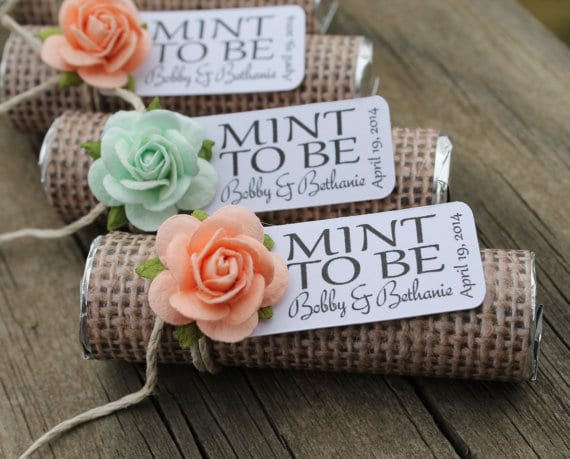 You are mint to have these at your wedding! There are a lot of kisses that go around during a wedding so mints are always a good idea to have!
Mint To Be Mints $43.20 for a set of 24