Las Vegas has been named the Marriage Capital of the World thanks to the number of ceremonies we do a day in this fabulous city. Las Vegas does on average about 300 weddings per day, equaling to over 100,000 weddings per year! People decide to get married in this city for a number of reasons. Here are 5 major reasons why you should look into getting married in Vegas! 
Here are 5 reasons why you should get married in Las Vegas.
#1: Affordability
From the venue, to the reception hall, to entertainment, etc. There are a lot of expenses that go into tying the knot. On average, couples are looking at spending about $33,000 on their wedding. Weddings in Las Vegas cost on average about $500 – $600. You may need to spend a bit more with transportation and lodging, however you will not spend anywhere near the national average if you elect to get married in Las Vegas!
#2: It's Easy
Obtaining a marriage license is extremely fast and easy to do in Las Vegas. All you will need is about $77 and a government issued photo ID! The Marriage License Bureau in Las Vegas has extended hours & they are open every day! (Yes, even all the major US holidays!)
Couples just need to use the Marriage License Bureau website to start their application online. You can find the application here: MLIC.Vegas
Reserving a space at a chapel is practically effortless as well. At The Little Vegas Chapel, to reserve your date and time, we just need a $100 deposit and you are good to go! Come the day of your ceremony and we will take care of the rest!
#3: Stress Free
Many chapels in Las Vegas are one stop shops, and will be happy to take care of all the planning for you! From organizing the day and time, providing wedding gown and tuxedo rentals, having your fresh flower bouquet ready when you arrive, even reception services after your ceremony, most of the planning is done through the chapel and their staff! You just need to worry about showing up and having a great time!
#4: Photography Spots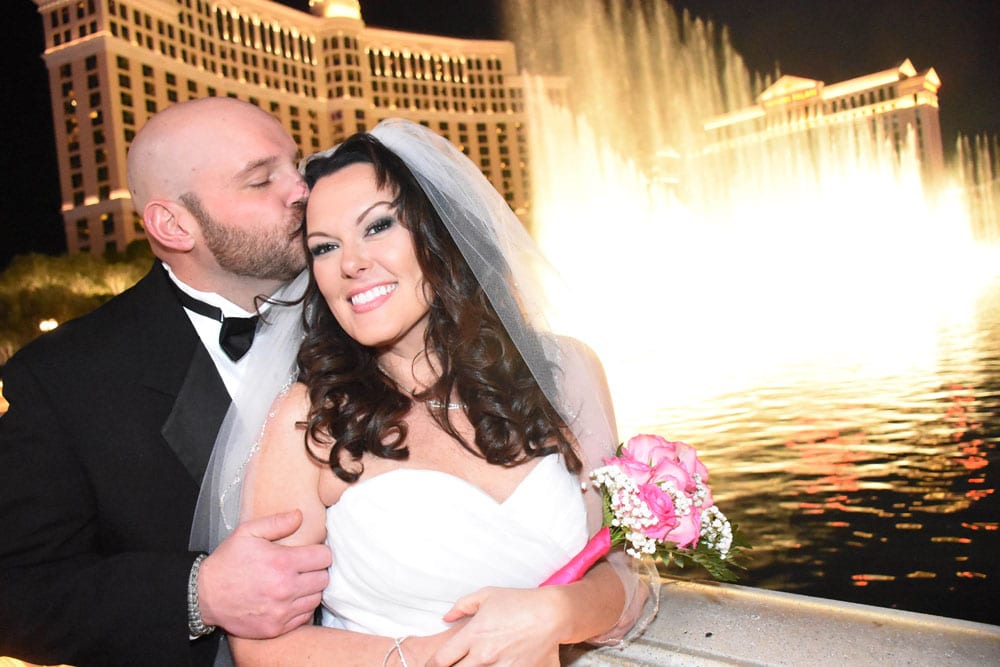 There are hundreds of options for you to select from for your pre or post wedding shoot. Want a Desert backdrop? Red Rock Canyon is a short drive from The Strip. Looking for a more urban feel? Downtown Las Vegas is home to over a dozen artistic wall murals. If you want the glitz and glamour of Las Vegas to be in your shoot, you can head to the front of the Bellagio Fountains, jump for joy in front of the Welcome To Fabulous Las Vegas Sign, or enjoy the Italian inspired structures at the Venetian | Palazzo.
#5: Entertainment Capital of the World          
You can literally have your bachelor/bachelorette, wedding ceremony, and honeymoon all in one city. There is hundreds of award winning restaurants to pick and experience after your ceremony. You are able to watch countless world-renowned shows such as Cirque du Soleil or entertainers like Celine Dion and Mariah Carey. The nightlife is one of the best in this city, and there are clubs/lounges in almost every hotel on the boulevard and handful of bars located in Downtown Las Vegas. You won't have to worry about entertaining your guests as they are able to enjoy the city as well!
Are you planning to get married in Las Vegas? You may be interested in our Traditional Weddings. If you have questions, contact us!